The South West of the city spans Colinton, Fairmilehead, Fountainbridge, Craiglockhart, Pentland Hills, Sighthill,  Gorgie / Dalry, Saughton, Longstone, Broomhouse, Sighthill and part of Wester Hailles.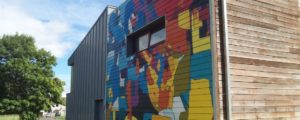 We met at WHALE arts with various organisations present including Health All Round, ELGT, SpaceScot, The Health Agency, NKS, Homestart, With Kids and Prospect Housing as well as representation from the Big Lottery and Deborah Mackie who is working on the three conversations innovation site in the SW.
There are three smaller working groups in the area which feed into the VSF: the Gorgie / Dalry forum, Join the Dots and the Livingwell group. We also heard round table updates from everyone present which includes:
Work on Winter Pressures
With Kids have domestic abuse work as a current focus
Hailes quarry group is now community led
Homestart are expanding their PEEP training activities,
Prospect housing are partnering with JP Morgan on a digital programme
The Health Agency have replacement Emma starting on 17th March as CEO
The Bromhouse Hub has a new outside play area. Since opening the facility has been very busy with activities spanning all ages. As yet the conference space hasn't been actively advertised in order for the staff and volunteers to all bed in with the change.
There was discussion about the successful consultation / burns night event at the corn exchange which saw over 400 people take part. Sadly there was no funding made available for this which was a real shame.
Deborah Mackie gave an update on the three conversations innovation site running within the SW and in particular the valuable contribution of the third sector. The model in the SW sees a resourced voluntary member of staff to be involved throughout which has really helped in the community and being able to fill the gaps. She hopes to do a piece of work to tell the story of this contribution as the approach roles out further across Edinburgh.