This month I was grateful to be able to work from the Volunteer Edinburgh office (for anyone interested – they have hot desks available) and find out more about the services and support they provide.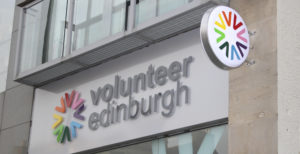 As soon as I walked off Leith Walk and in the door, I was invited by Nick from the Health and Wellbeing Team into a steering group meeting consisting of volunteers, NHS Primary Care, host organisations and the VE Team to talk about their buddying / peer support project.
This idea won't come as a surprise to many of you involved with VE I am sure, as it has been in the pipeline for many years. Volunteering is clearly a valuable tool in improving health outcomes for individuals as well as providing numerous benefits for organisations themselves. No one would contest that there is a need for extra support needs for some volunteers, in order for a volunteering partnership to succeed.
Volunteer Edinburgh were recruiting buddies at the time and I am sure this will be open on an ongoing basis (see here) For me, I think it will be interesting to see how the first stage of buddying will map out i.e. will buddies operate from within an organisation (and potentially fit within the current GP link workers / locality model in some cases); or rather will there be a central pool of different buddies to 'matchmake' a best fit with. For any more information on the buddying project, then drop Nick an email (nick.woodhead@volunteeredinburgh.org.uk) We will also ask Marion to update to the Forum at a later stage.
Some of you might not already be aware of the regular face to face support provided to volunteer coordinators. Each month the team run Inspire – see here for the next event on 28th February – which provides an opportunity to share experiences and best practice in what can often be a challenging role. As well as that, the quarterly Evolve gatherings have a more specific look at CPD for volunteer managers, for example the next event on 1st May focuses on digital communications.
It's a busy place, that is  for sure, with a constant buzz of activity and chat. Whilst the regular volunteering drop in was in full steam, I had the brilliant opportunity to chat with Esther, a volunteer ambassador for EaRN working with VE on the pertinent topic of loneliness. She talked me through some of the research she had undertaken so far over various population groups and some of the common threads which were starting to come through. The working title is 'I'm Still Here,' and the intention is to use this work as verbatim theatre for performance; which I am sure will be incredibly powerful.  I for one am excited to hear when this is complete. Thank you Esther for taking the time out of your day to talk with me about it.
And of course, a big thank you to everyone at Volunteer Edinburgh for sharing the work you do with me. We are thrilled to be inviting a Javier along to our April Forum Meeting to talk about the recently launched Volunteer Wiki; which I purposely haven't shared too much information about here as it is worthy of a separate article entirely.
For more information on Volunteer Edinburgh, click any of the links within the article or visit their website: https://www.volunteeredinburgh.org.uk/
Grace Mackenzie
Forum Development Worker